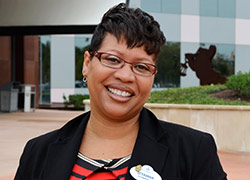 Powering the Guest Experience
D'Yanna, Sr. Project Manager
World-class entertainment and experiences are a labor of love for teams across Walt Disney Parks and Resorts, and Sr. Project Manager, D'Yanna, plays a pivotal role. Whether it's supporting the technology behind MyMagic+, an integration of various aspects of the Disney Parks experience into one system, or updating existing tools and services to exceed expectations, D'Yanna's team impacts change and facilitates improvement.
"It's extremely rewarding to walk through our parks and see the technology in action and know that you played a major role in bringing that to life," says D'Yanna. "Over the years, I've had the freedom to continue to develop technical, as well as leadership skills, and I've been able to work on some very exciting projects."
Through her career journey with The Walt Disney Company, D'Yanna has worked in an array of various positions. She started in an immersive role, that gave her grounding and first-hand interactions with product needs, and has since transitioned to project management and delivery. She considers her current role, Sr. Project Manager, one of the most challenging of her career, as well as the most progressive.
Of her team, D'Yanna comments, "We always work together, and build off of the variety of skills that we individually bring to the table. I love that we have a diverse team with top-notch developers and analysts that are both men and women who inspire each other to grow and develop their skills. We work very closely with product owners to understand the needs of the business and prioritize work accordingly. This working relationship inspires creativity and innovation by allowing technology and product to work together as one team delivering products."
Above and beyond her work contributions, D'Yanna is part of the Technology Diversity and Inclusion team, which advocates diversity of thought, women in technology and ways to encourage diversity in the workplace, as well as everyday life.