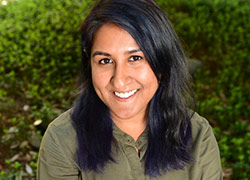 Decoding the Technology Management Rotation Program
Nasia, Technology Management Associate
With three rotations of the Technology Management Rotation Program under her belt, Nasia is a resident pro. Essentially, the program pairs top technology talent with a new business, team and challenge across The Walt Disney Company for a limited time. To date, she's supported The Walt Disney Studios, Walt Disney Parks and Resorts, and ABC News, and isn't slowing down anytime soon.
"In the Technology Management Rotation Program, you're basically starting a new job every six months," explains Nasia. "This can be an overwhelming experience that challenges you in ways that a lot of others don't experience, except for a few times in their life. However, changing the work experience so often increases a lot of imperative skills. Before this, I was always nervous about approaching a new person and starting a conversation. Now, that self-consciousness is gone. Especially at Disney, you realize everyone has a story they want to share and it is actually fun to learn explore what others are working on."
We asked for a brief rundown of her involvement, as a Technology Management Associate. She's "poked her head into various fascinating projects" including:
Exploration of how media content is consumed on a global scale, especially in emerging markets with The Walt Disney Studios. With this knowledge, teams are able to deliver a more tailored experience to those who enjoy Disney around the world.
Enhancements to products offered by the Walt Disney Parks and Resorts Photopass team. By providing products and services at all price points for all different experiences, every guest has the opportunity to keep and enjoy their magical memories.
Timely and diverse delivery of news, with the ABC News group. Before, news was consumed through only a few avenues but now you can get news from nearly any kind of digital device. With technology changing so fast and news always happening around the globe, our services allow for consumers to be well informed in any method they want.
"Regardless of our backgrounds, age or experience, my teammates all have this tremendous thirst for knowledge…when given the opportunity to improve and enhance in new ways, I've seen many of my peers jump at the chance," shares Nasia. "I've worked for various teams at Disney and while technology has always been a common thread, it really is a culture of curiosity that has made us thrive."