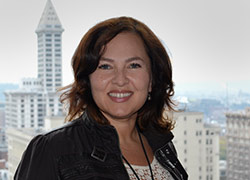 I Found My Home in Tech at Disney
Polina, Staff Software Engineer
Polina has laid her hands to an impressive number of technology projects with The Walt Disney Company over the past 18 years. Present-day, she resides in Seattle and innovates as a Staff Software Engineer. We caught up with her, to learn more about the work environment, team dynamic and breadth of opportunities Disney Tech offers.
"I love being part of a company that has always invested in me," affirms Polina. "I have had a small contribution in every fantasy game, mobile app and trip to a Disney park! Once I get comfortable with a domain, product or role, it is time for me to try something new or else I grow bored. The ability to stay where I know I enjoy the people and environment, while constantly growing my skills and experiences, has been fantastic. Throughout my time here, I have had so much support from my leaders at every turn. Developing people is a top priority at Disney."
The Seattle-based Disney offices have representation from several business segments, including: ESPN, Disney Consumer Products and Interactive Media, Walt Disney Parks and Resorts, Disney|ABC Television Group and Shared Services. Described as a "people-centric atmosphere," office-wide events allow for employees to share diverse ideas and increase collaboration on all levels.
"We have rotating Learning Sessions where all groups contribute topics and anyone can volunteer to teach a session," Polina remarks. "Also Innovation Weeks encourage cross-group collaboration where a small team builds a prototype or solution based on any topic the team chooses - then demonstrates their project to a panel of peers and executives. On many occasions the presentation or proof of concept created during Innovation Week becomes an effort that makes its way into production or every day use for employees."
Developer events, where individuals and small teams brainstorm on topics that have potential to improve processes or the environment, offer continued collaboration. "Everyone, whether intern or lead, is engaged and all opinions and suggestions are heard and considered," explains Polina. "Tangible changes frequently come out of those events. Our culture of openness and transparency encourages dialogue on change and improvement."
Equipping women in the tech space is top-of-mind too. Polina shares, "In the last year, we have established a women's group in Seattle. Past events have included sessions on negotiating salaries, networking and mentorship. This is an incredibly positive and supportive group - we share tips, articles and our experiences in order to promote all women, regardless of role or stage of career. It has been a source of great energy and inspiration for me!"
When asked about the longevity of her career with The Walt Disney Company, Polina divulges, "There are multiple reasons for my long tenure, but the primary reason is the incredibly collaborative and respectful culture that exists (at Disney). The leadership and policies here encourage employees to forge both careers and lifestyles that create well-rounded and happy individuals. Happy employees are able to focus on creativity, innovation and be their most productive selves!"