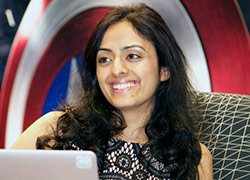 Bringing Innovative Mobile Solutions to Life
Riya, Sr. Manager -Technology
Award-winning websites and their mobile app counterparts are the primary projects tackled by Riya, Sr. Manager – Technology, and her Walt Disney Parks & Resorts Technology team.
"Within the last four years, I have delivered software products in line with the digital marketing strategies for the Walt Disney World Resort, Disneyland Resort, Disneyland Paris, Hong Kong Disneyland, Shanghai Disney Resort and Disney Cruise Line," Riya explains. "I have worked with teams and partners across eight countries in four continents. This position has given me the opportunity to grow into a true global leader, delivering innovative mobile solutions for one of the world's most recognizable brands, with the use of cutting-edge technology."
While this work unfolds behind-the-scenes, the impact is large-scale, for millions of guests who visit Disney Parks and sail with Disney Cruise Line. "Our websites and mobile apps help guests to discover, search and explore the official content for the various Disney Parks, acting as a comprehensive vacation planning tool," says Riya. Everything from dining reservations, to park hours and accurate wait times is available in real-time.
Driving the collaborative synergy may be a shared mindset that Riya and her team have adopted: Challenge the status quo, take risks and fail fast.
"We are strong proponents of Lean software development, and we strive for continuous improvement, high quality and improved efficiency with every release. The team is energetic, vibrant, fast-paced, agile and fun, and we maintain healthy and goal-oriented competitiveness. We strive to develop ourselves (and others), take pride in the work we deliver, and take time to celebrate milestones. This strong team spirit creates a support system within the team, allowing for flexibility, and a much-appreciated work/life balance."