Gardener
Apply Now
Apply Later
Job ID
600647BR
Location
Shanghai, Shanghai Municipality, China
Business Shanghai Disney Resort
Date posted Oct. 10, 2018
Job Summary:
Gardener must have a basic understanding on proper landscape maintenance. Have knowledge of different ornamental plants and the proper ways to maintain them. The Gardener will work with senior Gardener to maintain the plants and landscape over SHDR. Will take orders and instructions from supervisors. He/She should have practical gardening maintenance experience and work well with others.
May be required to work third shift and be stationed at work locations during incremental weather.
Responsibilities:
Regular gardening and landscape maintenance works to maintain healthy and vigorous plants
Must operate different models of power tools such as hedge shears, pole pruners, pole saw; grass trimmer and push mowers.
Reinstall or replace dead or unwanted plants on designated planting areas.
Operate large machinery, such as elevated platform, driving vehicle and golf cart.
Monitor and decide when to water the plants.
Basic Qualifications:
Understand and comply with requirements for the safe performance of work.
Plant, water, weed, mulch, mow, clean-up and any other tasks required to maintain impeccable gardens.
Knowledge of different plants and their maintenance requirements, such as water, prune, weed, fertilizer and so on.
Two years garden or park maintenance experience.
Communicate with team members to coordinate their work.
Available to work third-shift work and/or working on weekend days.
Preferred Qualifications:
Junior high school degree or above
Driving license C or above
Landscape Certificate will be preferred
Additional Information:
Please note:
Shanghai Disney Resort will not authorize anyone or any third party to charge candidate. Please always reach to our official channels or platforms for recruitment relevant information.Work Location:
Your work location is Shanghai Disney Resort in Chuan Sha, Pudong New Area, Shanghai.
You could take metro Line 11 to Shanghai Disney Resort.
Total Rewards: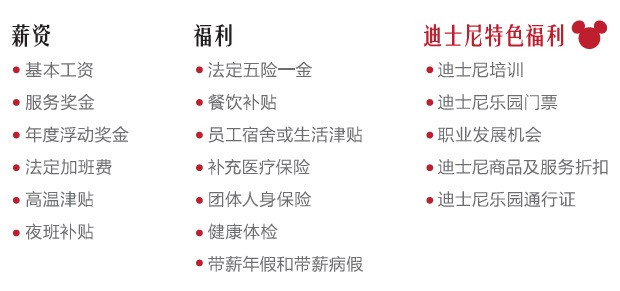 Remarks:
You may only apply once in a six month period. If you have applied within the last six months, please log in to your account to view your current application status
We welcome disabled candidates to apply for our jobs
Keyword: SHDRexperienced
Hotjobs
SHDRENG
About Shanghai Disney Resort:
Shanghai Disney Resort, the first Disney resort in Mainland China, is a place where friends and families can escape together to a whole new world of fantasy, imagination, creativity and adventure. The resort is home to the Shanghai Disneyland theme park; two themed hotels; Disneytown, a large shopping, dining and entertainment district; a Broadway-style theatre; Wishing Star Park and other outdoor recreation areas. Shanghai Disney Resort Cast Members provide world-class service to guests, and the resort brings classic Disney stories and characters to life with authentic cultural touches and themes tailored specifically for the people of China. Shanghai Disney Resort offers something for everyone – thrilling adventures, lush gardens where guests can relax together and enriching interactive experiences.
About The Walt Disney Company:
The Walt Disney Company, together with its subsidiaries and affiliates, is a leading diversified international family entertainment and media enterprise with the following business segments: media networks, parks and resorts, studio entertainment, consumer products and interactive media. From humble beginnings as a cartoon studio in the 1920s to its preeminent name in the entertainment industry today, Disney proudly continues its legacy of creating world-class stories and experiences for every member of the family. Disney's stories, characters and experiences reach consumers and guests from every corner of the globe. With operations in more than 40 countries, our employees and cast members work together to create entertainment experiences that are both universally and locally cherished.
This position is with Shanghai International Theme Park Company Limited, which is part of a business segment we call Shanghai Disney Resort.
Apply Now
Apply Later