Host/Hostess Disney Special Activity
Apply Now
Apply Later
Job ID
529210BR
Location
Shanghai, Shanghai, China
Business
Disney Parks & Resorts
Brand Shanghai Disney Resort
Date posted 02/28/2018
Disney Special Activity (DSA) provides exclusive tour experience to all Premier Tour guests, offering convenient, thoughtful and efficient VIP service that including parking, entering, leading, storytelling, prioritized quick access to attractions and shows, pre-booking dining reservations, special activities enquiry, etc. -'Butler Service'. Let our every guest enjoy the magic at Disney.
Responsibilities
Represent Disney and the Disney brandAlways work in accordance with Disney's four keys to provide excellent Disney services to club members
Communicate and work in collaboration with Park Operations partners and other tour hosts to deliver a magical premier tour experience for GuestsIntroduce the story of Shanghai Disney Resort during tour delivery, provide itinerary planning and explain services provided
Deliver amazing Guest Service to Guests on tour and other Guests visiting the park; anticipate needs of Guests to provide a seamless experience
Be proactive with Guests to answer questions and be flexible in handling the guest situations
Interact constantly with Guests and Casts and create Disney memories for our GuestsIntroduce tour products to Guest and Cast; communicate product information and policies in-person, telephone, or email; assist with reservations and required follow-up
Everyone plays the role of custodian to keep Shanghai Disney Resort clean for our Guest
Be able to obey and complete other relevant work on leadership arrangements
Basic Qualifications
Knowledge of the Walt Disney Company and the Disney brand
Courteous to guests and with outstanding communication skills and a service mindset
A team player and able to handle problems individually
Energetic, patient, positive, proactive
Flexible/adaptable (Work in the outdoor environment and shifts duty is required), and the ability to see "the big picture" while thinking outside the box
Fluent Mandarin and English language abilities, both oral and written
Physical Demand includes prolonged outside activities in diverse weather conditions
Be able to handle stressful situations and be able to perform multiple tasks at one time
1 year work experience in Guest Service industry in a Guest-facing role
Preferred Qualifications
College degree or above
Major in Tourism Management/ Hotel Management/ Public Relation is preferable
Fluent in other languages
You shall obtain certificate/qualification(s) required for performing the job, and complete and pass all post-employment trainings and assessments (including but not limited to On-Job-Training)
Additional Information
Please note:
Shanghai Disney Resort will not authorize anyone or any third party to charge candidate. Please always reach to our official channels or platforms for recruitment relevant information.Work Location:
Your work location is Shanghai Disney Resort in Chuan Sha, Pudong New Area, Shanghai.
You could take metro Line 11 to Shanghai Disney Resort.
Total Rewards: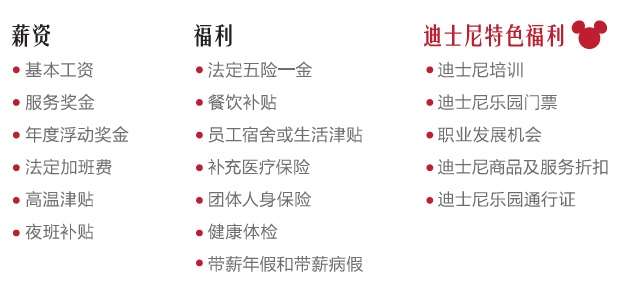 Remarks:
You may only apply once in a six month period. If you have applied within the last six months, please log in to your account to view your current application status
We welcome disabled candidates to apply for our jobs
About Shanghai Disney Resort:
The resort is home to the Shanghai Disneyland theme park, featuring six lands, as well as two themed hotels – Shanghai Disneyland Hotel and Toy Story Hotel, Disneytown, a large shopping, dining and entertainment district, a Broadway-style theatre, Wishing Star Park and other outdoor recreation areas. Shanghai Disneyland is a Magic Kingdom-style theme park featuring classic Disney storytelling and characters but with authentic cultural touches and themes tailored specifically for the people of China. As we continue to develop this magical destination, we're looking for a variety of world-class professionals including front line Cast Members and an innovative development team to help our plans take shape.
Keyword: SHDRexperienced
SHDRENG
Apply Now
Apply Later