Ride Technician, Mechanical
Apply Now
Apply Later
Job ID
592812BR
Location
Shanghai, Shanghai Municipality, China (Mainland)
Business Shanghai Disney Resort
Date posted Sep. 11, 2018
Job Summary:
This position will use power tools and hand tools to service, repair, disassemble and assemble attraction vehicles and major components to support Resort safety and reliability initiatives. All work must be completed precisely using blueprints, technical manuals and other documentation. This role will develop and maintain inventory for this operation and record all activities as required in Maximo as well as on any Quality Assurance/Engineering required documents
Responsibilities:
Accept technical direction from planning, technical and engineering sources and conduct and implement required actions, including scheduled maintenance and required repairs. Deliver quality maintenance to ensure safety and reliability.
Troubleshoot ride vehicles and other equipment. Must be skilled in the use of precision measurement tools, inspection equipment, scales, torque wrenches, hoists, lifting and transfer devices .This role requires pushing/pulling equipment in excess of 50 lbs., lifting tools and equipment less than 50 lbs., climbing ladders while grasping parts and tools. May work indoors or outside during inclement weather and on any shift. Requires frequent handling of powered/manual tools weighing 5-50 lbs.
Operational/Functional checks - conduct checks of systems/equipment to verify operational integrity, identify and isolate faults and discrepancies, and verify operability following maintenance actions.
Material handling –must lift, carry, and place assemblies and components on work surfaces and material handling carts, pallets, and other fixtures. Pushes/pulls carts, pallet jacks, hand trucks and wheeled assembly fixtures around work areas. Uses overhead hoists and cranes to move heavy assemblies. This requires bending/twisting at the waist, lifting and carrying objects, Read and understand blueprints, detailed instruction, technical manual drawings and documents etc. And apply it in daily maintenance.
Pass all compliance required technical and safety training, get the related certificates.
Support management RCA (Root Cause Analysis)
Prepare maintenance record to Support MAXIMO specialist, ensure correct maintenance document are accurate and timely.
Support engineering service manager to determine needed parts/materials.
Good communication and cooperation with rides operation team.
commitment to teamwork and guest satisfaction
Miscellaneous job assigned by management as necessary.
Basic Qualifications:
5+ years working experience in mechanical maintenance; auto service department or similar. Demonstrated trouble shooting skills, as well as continuous improvement maintenance skills
Able to read schematic drawings and blueprints.
Maintenance Experience working with JV or MNC is preferred
Experience with assembly tools and equipment such as hoes, press, power drills, torque wrenches, impact guns, etc.
Working experience in amusement facilities and hold the certificate is highly preferred. Technician in Metro line and Aircraft Company is preferred.
Being familiar with PLC control and hold electrician certificate is good.
Experience in Instrument maintenance or electrical maintenance.
Preferred Qualifications:
High degree of hand eye coordination
Must be able to replicate a product from an example
Computer skills is a must.
Ability to interact with various levels within the company
Energetic and able to work in a fast-paced environment
Committed/reliable – reports to assignments on time.
Guest and customer focus
Team Behaviors and Spirit of cooperation
Good communication skills
Maintain good housekeeping
Remain in compliance with all safety and environmental regulations
Available to work weekends and holidays as required by management.
Required Education
Vocational school or above (Mechanical Engineering or electromechanical is preferred)
Additional Information:
Please note:
Shanghai Disney Resort will not authorize anyone or any third party to charge candidate. Please always reach to our official channels or platforms for recruitment relevant information.

Work Location:
Your work location is Shanghai Disney Resort in Chuan Sha, Pudong New Area, Shanghai.
You could take metro Line 11 to Shanghai Disney Resort.
Total Rewards: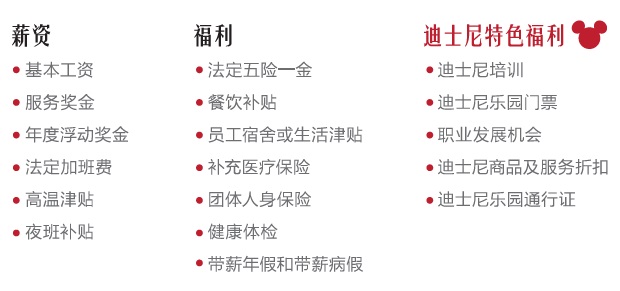 Remarks:
You may only apply once in a six month period. If you have applied within the last six months, please log in to your account to view your current application status
We welcome disabled candidates to apply for our jobs
About Shanghai Disney Resort:
The resort is home to the Shanghai Disneyland theme park, as well as two themed hotels – Shanghai Disneyland Hotel and Toy Story Hotel, Disneytown, a large shopping, dining and entertainment district, a Broadway-style theatre, Wishing Star Park and other outdoor recreation areas. Shanghai Disneyland is a Magic Kingdom-style theme park featuring classic Disney storytelling and characters but with authentic cultural touches and themes tailored specifically for the people of China. As we continue to develop this magical destination, we're looking for a variety of world-class professionals including front line Cast Members and an innovative development team to help our plans take shape.
Keyword: SHDRexperienced
Hotjobs
About Shanghai Disney Resort:
Shanghai Disney Resort, the first Disney resort in Mainland China, is a place where friends and families can escape together to a whole new world of fantasy, imagination, creativity and adventure. The resort is home to the Shanghai Disneyland theme park; two themed hotels; Disneytown, a large shopping, dining and entertainment district; a Broadway-style theatre; Wishing Star Park and other outdoor recreation areas. Shanghai Disney Resort Cast Members provide world-class service to guests, and the resort brings classic Disney stories and characters to life with authentic cultural touches and themes tailored specifically for the people of China. Shanghai Disney Resort offers something for everyone – thrilling adventures, lush gardens where guests can relax together and enriching interactive experiences.
About The Walt Disney Company:
The Walt Disney Company, together with its subsidiaries and affiliates, is a leading diversified international family entertainment and media enterprise with the following business segments: media networks, parks and resorts, studio entertainment, consumer products and interactive media. From humble beginnings as a cartoon studio in the 1920s to its preeminent name in the entertainment industry today, Disney proudly continues its legacy of creating world-class stories and experiences for every member of the family. Disney's stories, characters and experiences reach consumers and guests from every corner of the globe. With operations in more than 40 countries, our employees and cast members work together to create entertainment experiences that are both universally and locally cherished.
This position is with Shanghai International Theme Park Company Limited, which is part of a business segment we call Shanghai Disney Resort.
Apply Now
Apply Later