Tradesman Painter
Apply Now
Apply Later
Job ID
604416BR
Location
Shanghai, Shanghai Municipality, China (Mainland)
Business Shanghai Disney Resort
Date posted Feb. 13, 2019
Job Summary:
Cast Members assigned to the Painter-Sprayer position will operate a hand gun or paint booth equipment to apply paint, protective coatings and decorative finishes to several types of material.Painters will set up equipment, mix materials, prepare surfaces, apply tape or other protective material to protect non-painted surfaces, apply the required number of coatings, measure applied thickness and clean equipment following strict safety guidelines relating to Hazardous Materials/Waste.
Responsibilities:
Prepare surfaces to be coated by using various methods to remove grease, rust, dirt, coatings and paints. This includes, blasting, steaming, sanding, scraping, cleaning, patching etc.)
Apply fine finishes to surfaces according to Show Quality Standards. Perform repair and touch- environment such as a spray booth and in the shop. Wear Personal Protective Equipment (respirators, gloves, safety glasses) for prolonged periods.
Clean nozzles, hoses, containers and other equipment. Handle all HAZMAT & HAZWASTE products following the Resort Operating Guideline procedures.
Demonstrate ability to use related tools, and repair/maintain tools(brushes, rollers, mixers, spray equipment, plaster and patching trowels, sanders, ladders, etc.).
Have knowledge of primers, paints and coatings (latex, enamels, stains, primers and patching compounds); mixing colors, tinting, toning and blending to match an existing painted/colored surface using the proper type of paint. Experience with accelerants a plus
Ability to work with plastic and fiberglass fillers.
use scaffolding, ladders , man lifts, etc and the associated PPE to meet safety standards for working at higher levels.
Understand blueprint and drawings to extract info such as material requirements and structure dimensions.
Manage assigned workload through use of CMMS system (MAXIMO).
Apply parts identifying numbers. Requires ability to read, interpret and trace schematics, research the internet for vendors and suppliers, and use correct repair and replacement procedures as depicted in maintenance/vendor manuals.
Be able to lift 50 lbs and carry 30 lbs
Demonstrate a visible commitment to safety.
Maintain cleanliness and take appropriate steps to protect the environment
Carry out any miscellaneous tasks as directed by management
Basic Qualifications:
More than 2 years of experience in building and fit out preventative maintenance or building construction work experience. (Experience with multi-facility or multi-technical skills preferred).
High school diploma is required/vocational school in civil engineering is preferred
Preferred Qualifications:
Ability to read and understand blueprints
Candidates for this position should be highly motivated, reliable, and possess good communications skills
Mentally alert and physically fit (may be required to work on constant movement on foot or in vehicle; material and tools/carpenter equipment handling)
Respect for fellow Cast Members (diversity)
Proactive to Guest requests
Communicates and interacts freely and at ease with fellow Cast Members
Supportive of fellow Cast Members
Reliable/dependable whether working individually or in a group
Available to work Sunday through Saturday, all shifts (i.e., 1st, 2nd, and 3rd shift) as deemed required by management, Willingness to follow instructions and take directions
Available to work on holidays
Have the computer skills (MS Word, Excel, Power Point, etc.), accurately report information and record in the document.
Have driving license.
Additional Information:
Please note:
Shanghai Disney Resort will not authorize anyone or any third party to charge candidate. Please always reach to our official channels or platforms for recruitment relevant information.Work Location:
Your work location is Shanghai Disney Resort in Chuan Sha, Pudong New Area, Shanghai.
You could take metro Line 11 to Shanghai Disney Resort.
Total Rewards: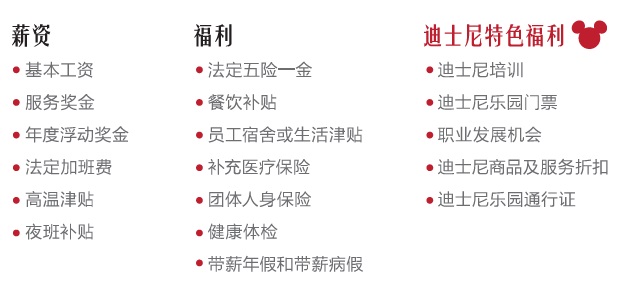 Remarks:
You may only apply once in a six month period. If you have applied within the last six months, please log in to your account to view your current application status
We welcome disabled candidates to apply for our jobs
Keyword: SHDRexperienced
SHDRENG
Hotjobs
About Shanghai Disney Resort:
Shanghai Disney Resort, the first Disney resort in Mainland China, is a place where friends and families can escape together to a whole new world of fantasy, imagination, creativity and adventure. The resort is home to the Shanghai Disneyland theme park; two themed hotels; Disneytown, a large shopping, dining and entertainment district; a Broadway-style theatre; Wishing Star Park and other outdoor recreation areas. Shanghai Disney Resort Cast Members provide world-class service to guests, and the resort brings classic Disney stories and characters to life with authentic cultural touches and themes tailored specifically for the people of China. Shanghai Disney Resort offers something for everyone – thrilling adventures, lush gardens where guests can relax together and enriching interactive experiences.
About The Walt Disney Company:
The Walt Disney Company, together with its subsidiaries and affiliates, is a leading diversified international family entertainment and media enterprise with the following business segments: media networks, parks and resorts, studio entertainment, consumer products and interactive media. From humble beginnings as a cartoon studio in the 1920s to its preeminent name in the entertainment industry today, Disney proudly continues its legacy of creating world-class stories and experiences for every member of the family. Disney's stories, characters and experiences reach consumers and guests from every corner of the globe. With operations in more than 40 countries, our employees and cast members work together to create entertainment experiences that are both universally and locally cherished.
This position is with Shanghai International Theme Park Company Limited, which is part of a business segment we call Shanghai Disney Resort.
Apply Now
Apply Later